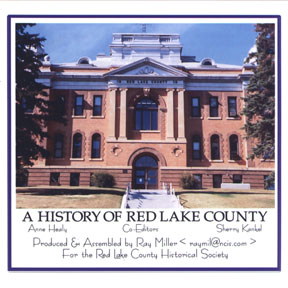 NOW AVAILABLE ON CD-ROM:
"A History of Red Lake County", 1976.
Ray Miller, genealogist, working with the Red Lake County Historical Society, has transferred to a CD the exact replica of the HISTORY OF RED LAKE COUNTY, published in 1976.
A name index is included and is a valuable addition to the work. The CD is done in Acrobat Viewer and can be viewed by either IBM or MAC.
The cost of this CD, including postage and handling, is $30. Checks are payable to Red Lake County Historical Society and should be mailed to:
Red Lake County Historical Society,
c/o John Thibert
18779 115th Ave.
Red Lake Falls, MN 56750-8864

3thibert@gvtel.com
218-253-2237